Cristina Capitanu and Elena Oancea are the creative minds behind Lemon Interior Design. The two sisters let themselves been driven by the creativity and information they have gained over time and have shown that when one loves what one does and works with passion, the results are not delayed. They find inspiration in everything, from travels and paintings, to smells, and each project represents a new chance to reinvent themselves.
1. Why interior design and not something else?
Elena: It was a conjuncture. I, for example, have finished Law and I have a Master in Business Law. Then life has somehow brought us on this way of interior decorations. At first we made retail in the field, and customers began to ask us also for design ideas. This is how the move to interior design had somehow became a necessity. A need of customers, who wanted more than to buy from us, who wanted us to help them also in what design means. We slowly got into this area, with shyness at first. We worked a lot, learned a lot, went to specialty courses in Milan, New York and London, we gathered beautiful projects, diplomas, awards. And over the course of time we realized that this is what we want to do.
2. How difficult were the first steps for Lemon Interior Design to take on life and how does the start of this business look like?
Cristina: Practice and experience teaches one. As Elena had said earlier, we began with shy steps, with lots of work, with days and nights spent at the office. It was not easy, but we never intended to discount quality. Our customers have always been and always are on the first place, which is why we have often chosen to cover new costs incurred due to various delays or changes of offer, even if for us meant extra costs. But we never saw them as loss, but as experience. And our customers have always appreciated the quality of the service we offer. It happened to us, for example, to refuse some clients, we believe one must feel that one can work with the respective person, there must be a chemistry, a dual relation. We have accepted to do free of charge portfolio projects, precisely because we wanted to improve ourselves. When we started our collaboration with One United Properties, the largest luxury real estate developer in Romania, we had already experience and certain big projects behind. It's very hard to do big things if one has no experience and one does not know what one is talking about. To convince a client, one needs solid arguments, experience, vast knowledge, because there is one thing to sell a chair, and another to design a whole house. In addition, I and Elena complete our work very well, and that helped us in this business from the very beginning.
Elena: That's right, we're complementary and Lemon works because we're doing a great job. And when I say that I refer to both our personalities and our vision. When one of us is not so bold, for example, the other comes and remedies. We believe that in this field one needs a great opening, flexibility, strength, the ability to shape tastes, to avoid a kitsch, but also to respect the wishes and needs of the client.
Cristina: To come back to our beginnings, I can tell you that since 2012 and until three months ago, we did it al only the wto of usl. From design, implementation, coordinated teams, delivery, everything. It was not easy at all, especially because there were times when I ran several projects in parallel. Now we are working, for example, about 20 apartments, several penthouses, we are also finishing some houses in the countryside ... There are 80 imports per month. It's a huge volume. We have One Herastrau Plaza and One Charles De Gaulle at work for which we are preparing all the finishes.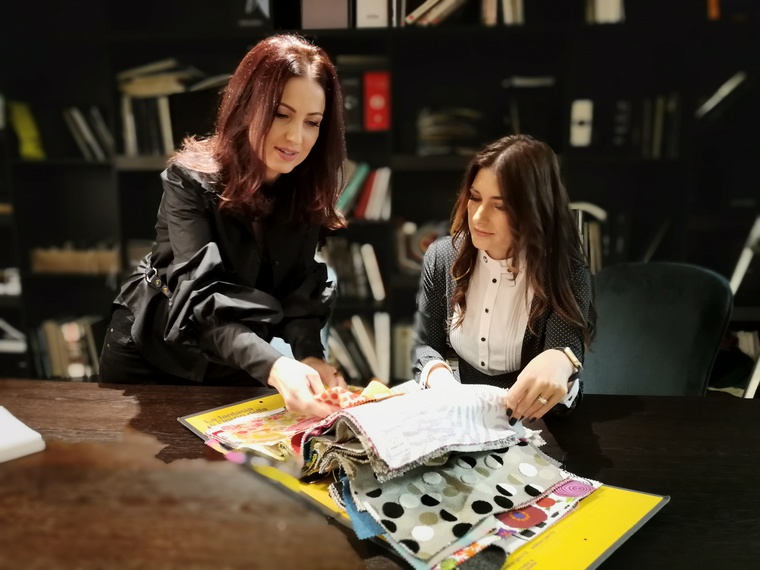 3. What are the words that define the profile of the Romanian clients regarding preferences and desires?
Cristina: People who work hard, who appreciate quality, open-minded people with studies who have gone from nothing and who have succeeded in accomplishing something are the people coming to see us. There are people who appreciate money, who know what they buy, who appreciate quality.
Elena: Impeccable service and quality. That's what our customers are looking for. We wanted to be a pro-client from the start and to treat each house as if it were ours. We respect the customer's wishes, but there is both of us in the final touch on the projects, we have something recognizable, a fingerprint, if you like, which is ours.
Let's talk a little about trends. Many people wish to make a change in their home, but they are not aware of the nuances they can choose for furniture or walls, for example. What are the trends of 2018?
Elena: The natural stone, especially marble, has come strongly on the market, and will be in the trend next year. The wood was and will remain in vogue. In many of the collections launched this year, the rover affumicato takes an important place. Metals are again present in all collections. As for the colors, Pantone gives the tone. This year there was a lot of green. We also keep the warm, neutral tones that we like very much. At the end, however, it matters what the customer likes, we respect his personality and we come with a touch of tendencies.
Cristina: Lemon style is one that goes much on the accents, inserted into a contemporary basis. We take care to capitalize on the past and bring it to the present so that the result is homey, not cold, impersonal. What we do does not bore and passes the test of time. Our houses are hot. We distinguish ourselves by the fact that we have a residential-commercial style line.
5. We have noticed that at present the emphasis is placed on the presence of natural elements in modern compositions. What are the most desirable interior design ideas?
Elena: As I said, the wood is very present, the metal influences are in any form, the gold-rose is back, but also the stone.
6. What inspires and influences your professional choices?
Cristina: We travel a lot and from any trip one can learn something, from a picture, a painting, a smell, a fair of antiquities. We find inspiration in almost everything. Africa is my favorite place, it is in my view the most beautiful place, it has tranquility, colors, smells that relax and inspire me. Elena is fascinated by Italy, the design and architecture of buildings of Barcelona.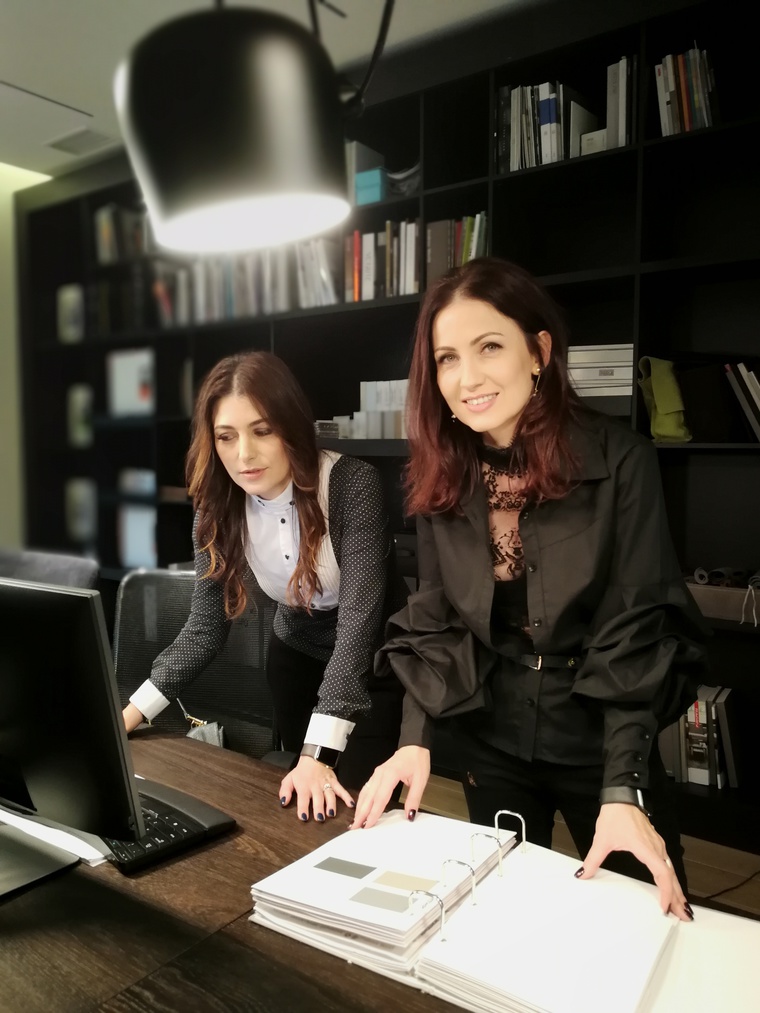 7. What is the style that you think you can not fail with in applying in housing?
Cristina: You can make mistakes in any style. So it's not just about style, but also of what one knows how to do it. We start from desires.
Elena: We beleive that styles intertwine, we can make a combination of contemporary with industrial, for example, or baroque with contemporary. We never go 100% on one style, we have a touch of ours, a recognizable style.
8. Of the successful projects you have realized, who is the one who came closer to your heart and why?
Cristina: One Herăstrău Park, because it's the first big project we took from the beginning till the end. We chose the finishings for the whole project. Every bathroom is customized. Every apartment is thought according to the client. We have been involved from the very beginning. After choosing the finishings, we made the concept, we worked on the lifts, the lights on the facade, the common spaces, we have a lobby unique on the market, and at the ground floor we have just moved our design boutique.
We found the artist who will make a sculpture in the common area of the complex. It is a soul project, for which we have had the support of all, and the customers were impressed. We believe it is a unique real estate and design project in Romania.
Published on ONE.ro - Octomber 25, 2017.
---
Blog
News and Press Releases