Following last year's achievement of One Herăstrău Park certification as the first "Green Homes" residential complex in Bucharest, One United Properties receives another recognition of its sustainability practices: One Charles de Gaulle, another important project developed by the company, is now "Green Homes" certified by the Romanian Green Building Council.
One Charles de Gaulle is an exclusive residential project located in the Primaverii neighborhood, two minutes from Herastrau Park. The exceptional contemporary architecture combines with an elegant interior design to offer a truly unique residential project. In addition to its historical and high-end location, the top architecture and premium materials, the compound is also an example of superior energy efficient green building.
The "Green Homes" certification granted by the Romanian Green Building Council for One Charles de Gaulle is a recognition of top eco-friendly standards, such as sustainable materials, low carbon footprint, energy efficient systems and installations, low pollution, healthy location for residents through zero-point volatile organic compound finishes, a strategic location in the proximity of many public transport means and facilities, superior building efficiency, application of preventive measures and reduction of pollution at the execution stage, including waste sorting on site etc. The building was presented as a good practice model and was appreciated by the European Commission.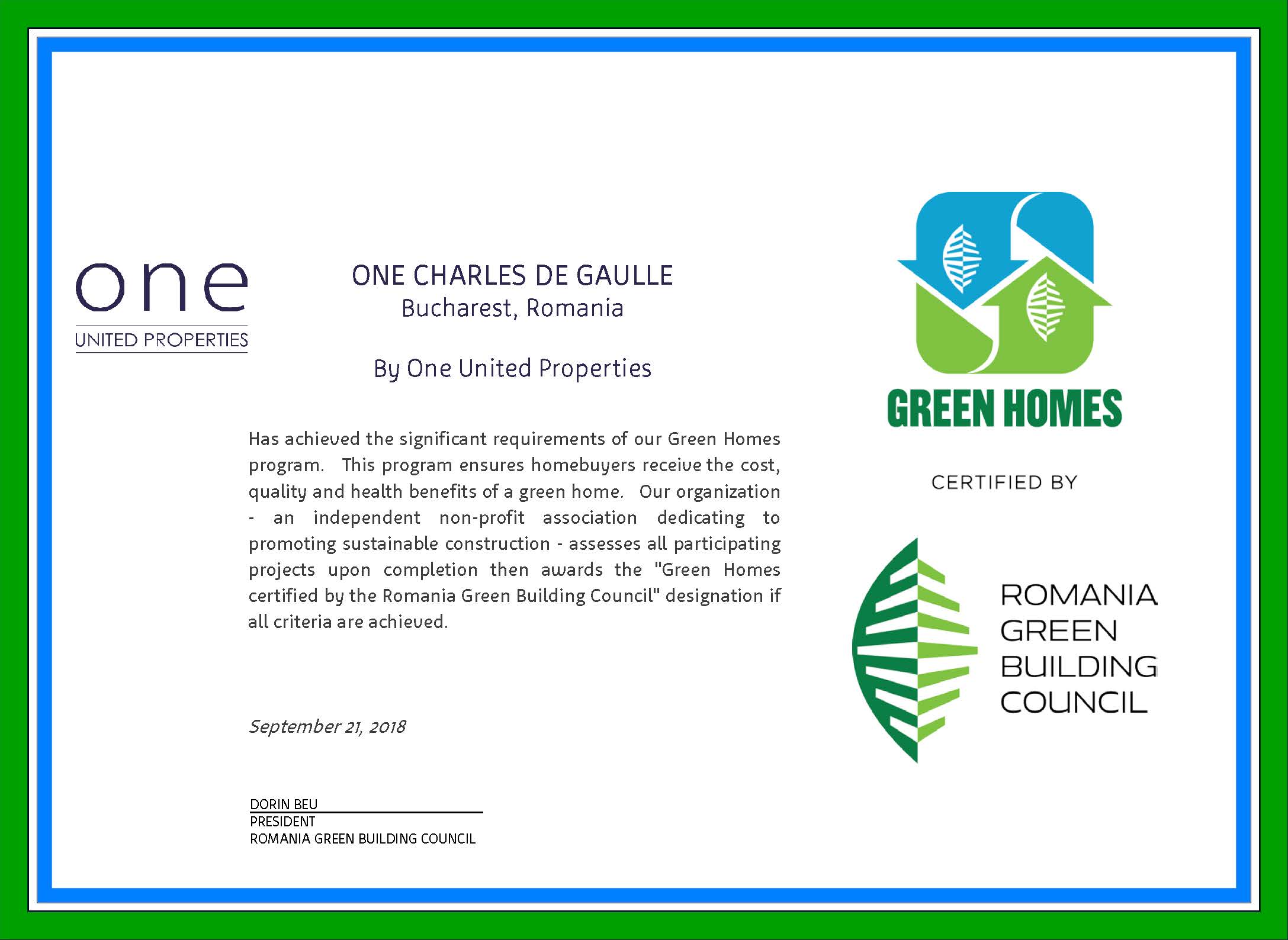 This luxury residential complex includes 33 dwelling units distributed in two buildings, totaling a built-up area of 8,000 square meters, including the basement, technical spaces and common areas, with a living area of 4,000 square meters. One Charles de Gaulle has a spectacular interior design created by Lemon Interior Design.
"From the very beginning we realized that One Charles de Gaulle has all the data to become the most exclusive residential project in Bucharest and even in Romania. In addition to its location in an exclusive historic area, low height, top architecture, and high-end design, the project has now one more quality with its "green" certification granted by the Romanian Building Council. It is still a recognition of our constant concern for efficient, healthy, sustainable buildings that anticipate the customers' needs and respects the environment. All One United Properties projects align with the green certification requirements. Our sustainability practices contribute to promoting environmental standards within the real estate sector",

said Beatrice Dumitrașcu, VP Residential Sales One United Properties.
One United Properties constantly focuses on developing sustainable projects that offer a unique aesthetics to the environment and promotes healthy building practices. The company permanently innovates by means of sustainable building materials, light roofing and terraces that reduce the island effect, water consumption optimization through efficient irrigation, smart BMS systems, zero light pollution etc. One United Properties has received multiple awards for sustainability, architecture and design, energy efficiency, and quality in the work from various organizations in the industry, such as SEE Europa Property, Forbes, Construction & Investment Journal (CIJ), ROGBC.
---
Blog
News and Press Releases