The project developed by One United Properties has received the LEED v4 Core & Shell pre-certification Platinum level, the highest level of technical appreciation and evaluation of a construction.
One Tower, the office building part of the multifunctional unit One Floreasca City developed by One United Properties at the intersection of Mircea Eliade Boulevard and Calea Floreasca, has received from the US Green Building Council the LEED v4 Core & Shell pre-certification at Platinum level, the best performance of a building in the construction phase on the Romanian market.
Following the assessment of GBCI (Green Business Certification Inc.), the leading organization that independently recognizes excellence in global business performance and practice, One Tower has won the prestigious Platinum LEED v4 Core & Shell pre-certification, which is also the most rigorous in terms of sustainable and green building development.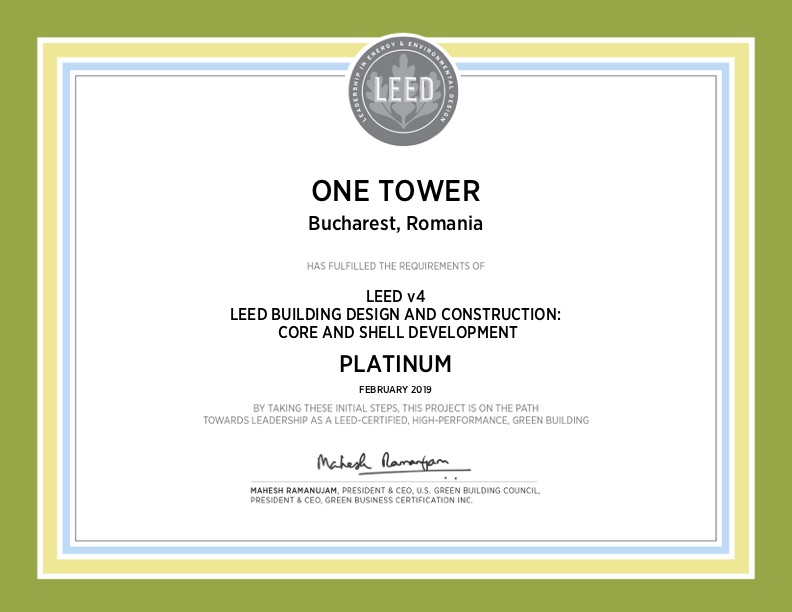 Ionuț Dumitrescu, One Office Co-founder:
"This certification honors us and forces us to continue the company's efforts to deliver sustainable projects with minimal impact on the environment. Our desire is to build offices that focus on the welfare of employees in these premises, by approaching parks and green areas, access to sport through outdoor activities, and the incorporation into the concept of many services related to people's health and nutrition. We apply this strategy to all of our projects: One Tower, part of One Floreasca City, One Cotroceni Park and One Verdi Park."
More details regarding this certification and the impact of One Floreasca City on the area, its traffic solutions and the working and living concept it puts forward here.
---
Blog
News and Press Releases