When talking about Bucharest, one of the most renowned and beautiful areas that will come to your mind is the Floreasca neighborhood.
In the past years, the atmosphere in the area was invigorated by various daring real estate projects aiming for the restoration of the most appreciated buildings, including Piata Floreasca and the former Automatica platform, the old Ford car manufacturer functioning during the interwar period. The residential compound One Mircea Eliade, part of the mixed-use complex One Floreasca City developed by United United Properties is part of a landmark urban regeneration project in the area.
The MIT Clima Company also contributed to this real estate project with Mitsubishi Electric Air Conditioning professional equipment and, in particular, with the technical support provided by the professionals from the technical team. The Japanese manufacturer Mitsubishi Electric held a meeting with international dealers in the first quarter of 2020, during which it acknowledged the good results of the involvement of the MIT Clima team in the residential project One Mircea Eliade. For its accomplishments, MIT Clima has received the "Best VRF Project 2020" Award by Mitsubishi Electric Air Conditioning.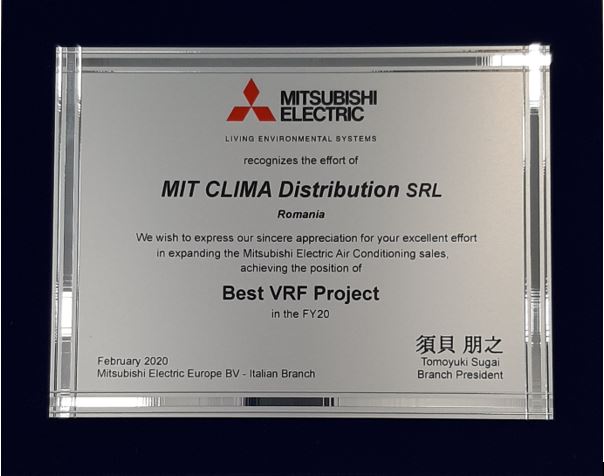 The company MIT Clima, an importer and distributor with 10 years of experience in the market of professional air conditioning equipment, was involved in the project One Mircea Eliade with technical support made available during the design and tendering stage, and will continue to offer assistance for future assembly and commissioning. The proposed air conditioning equipment is of the latest technology, the latest generations of products from the air conditioning division of Mitsubishi Electric.
VRF CITY MULTI systems - Mitsubishi Electric:
More details here.
---
Blog
News and Press Releases