REHAU Romania has relocated its offices from Tunari, Ilfov, to Bucharest, to the sixth floor of the One Cotroceni Park building developed by One United Properties. The move is part of the company's initiatives to provide its employees with a more pleasant working environment and a location that best meets their needs. The transaction was carried out with the support of Cushman & Wakefield Echinox.
The new location, with an area of 960 sqm, serves the 46 employees of the Bucharest branch and provides them with a modern space, equipped with the latest technologies and with various areas that meet both the needs of collaboration and those of quiet concentration, decorated in warm and welcoming colors, in order to offer the best working conditions. It consists of 9 closed offices, 27 open-space offices, 4 conference rooms, 2 phonebooths, a relaxation area with a children's corner for colleagues who want to bring their little ones to the office from time to time. There are also two terraces with a total surface of 120 sqm.
"We are pleased to announce the relocation of REHAU offices to One Cotroceni Park. The location was chosen following a survey which revealed the employees' most important desires, such as proximity to the metro, central location, generous recreational spaces, sustainability and low environmental impact.

Caring for employees has always been at the heart of REHAU, and our focus has been on building a unique, modern, dynamic place that is adapted to hybrid working conditions, that inspires and encourages collaboration, but also ensures confidentiality when needed. Moreover, through this space we emphasize the REHAU values - innovation, trust and reliability and ensure healthy conditions for daily tasks.

We are proud to have been able to build this place together with our partners at ONE, who offered us all their openness to design the space in accordance with the needs of employees and REHAU values.",

said Alexandru Oprea, Country Manager REHAU Romania.
"Through all our office developments we aim to create communities that not only work together, but also have access to a wide range of facilities at work. We aim to provide modern workspaces that ensure the best health and wellbeing guarantees for employees, with integrated commercial and leisure services that are certified for sustainability and incorporate the latest technologies in the industry. We are delighted to welcome the REHAU team to the ONE community, with whom we share the same values of sustainability and at the same time appreciate the recognition of our efforts to achieve excellence in contemporary workspaces,"

said Mihai Păduroiu, CEO Office Division One United Properties.
The office is an incursion into the REHAU world, where the existing solutions on the Romanian market can be observed and tested.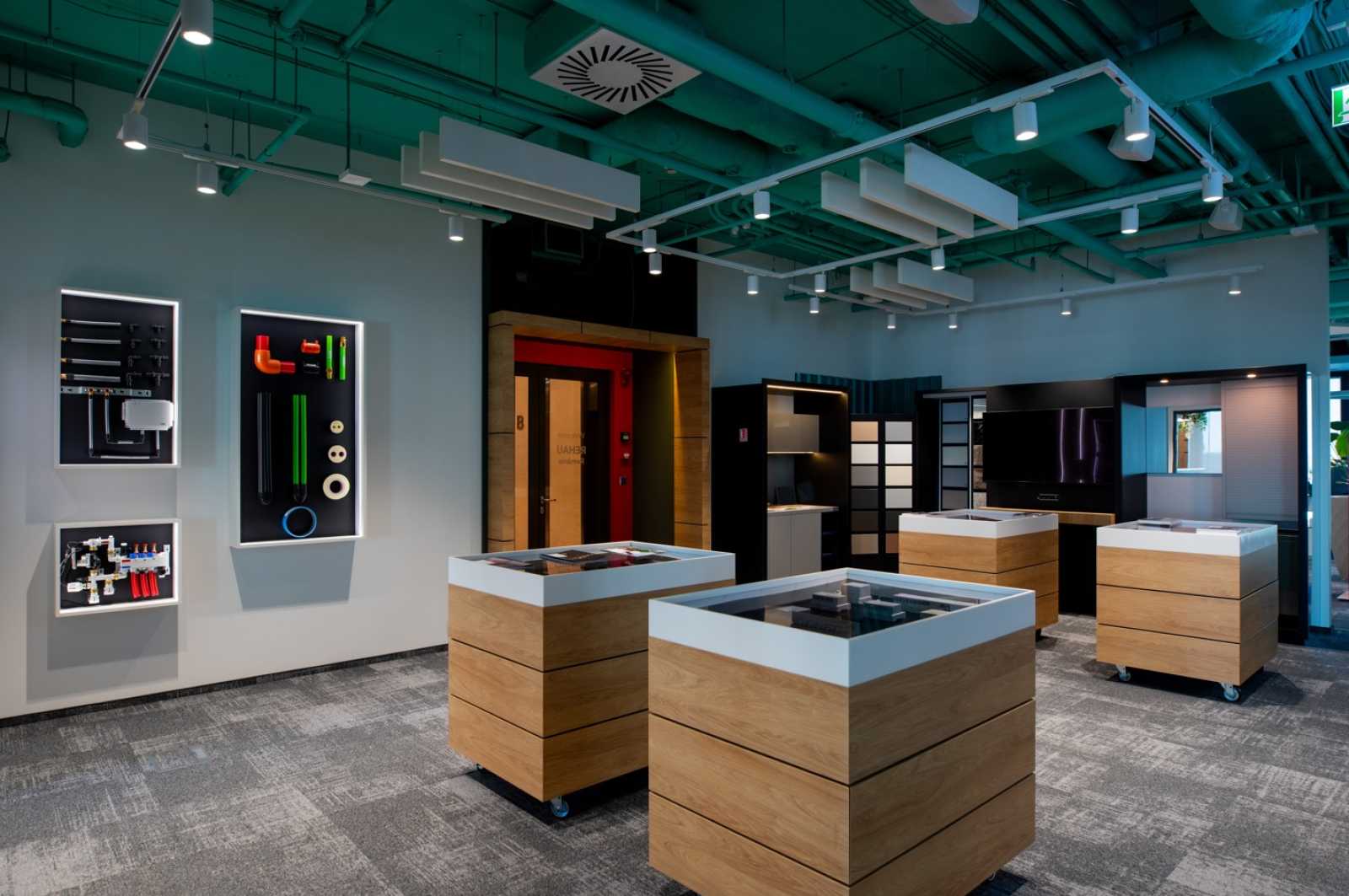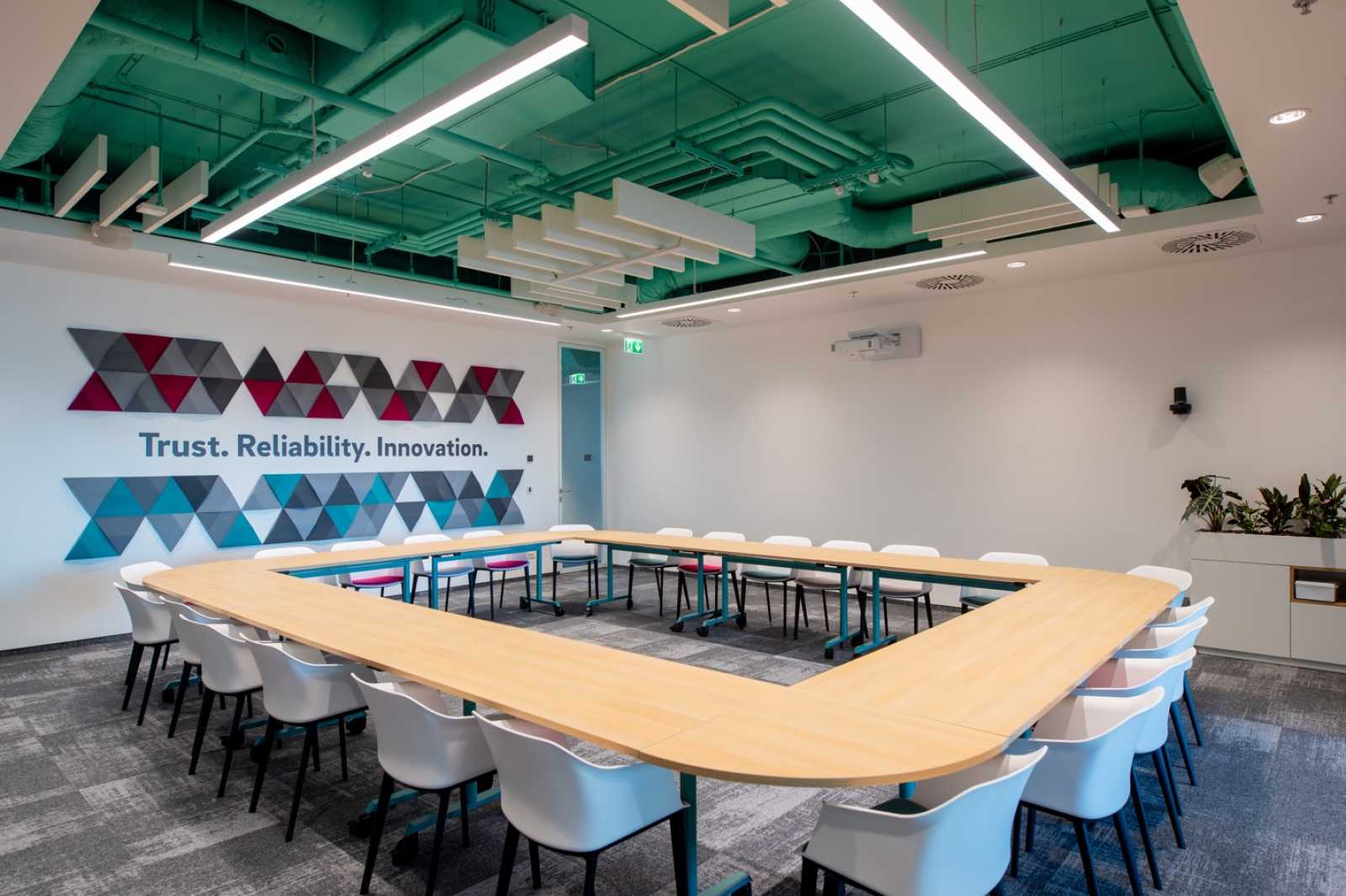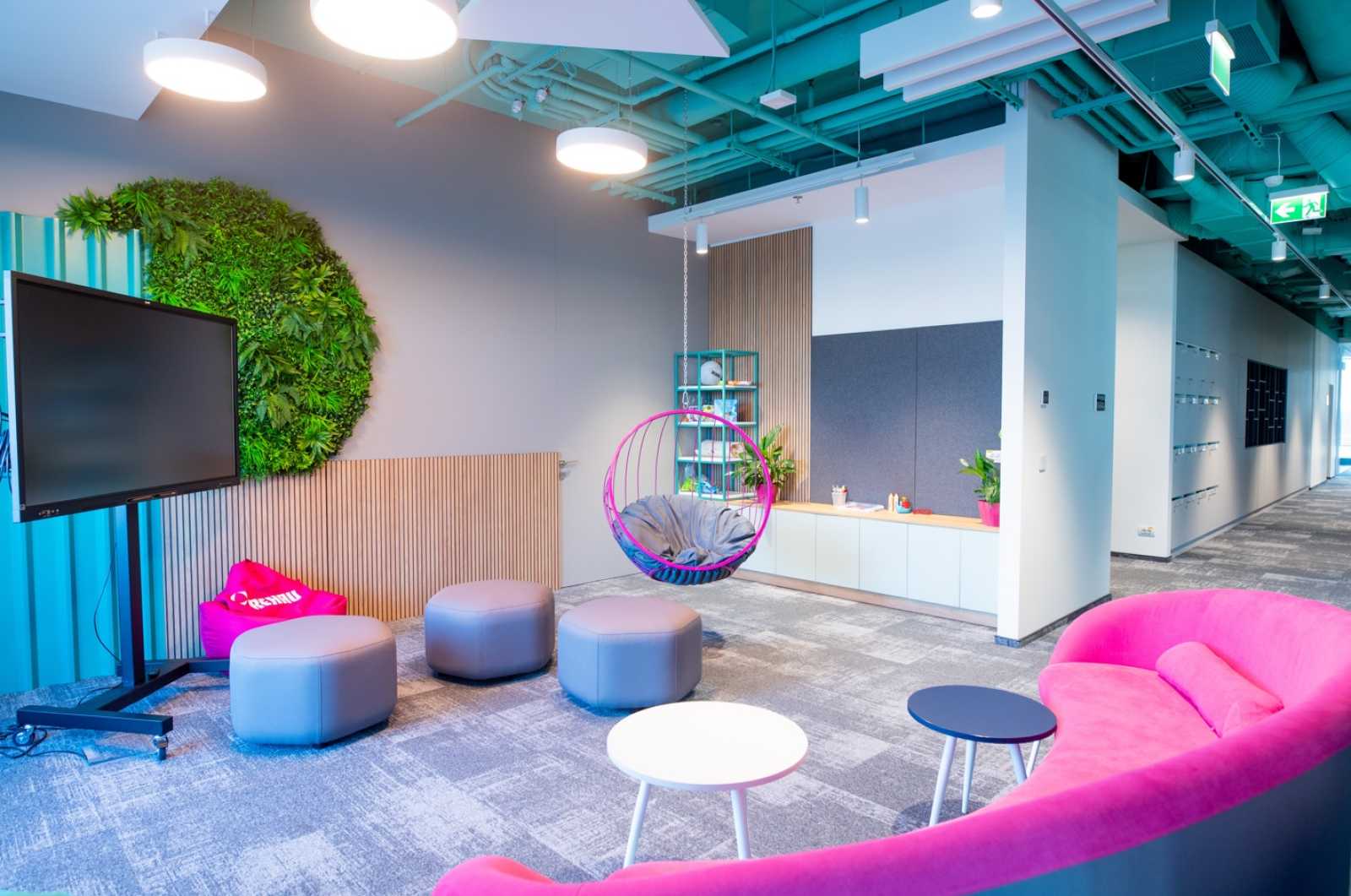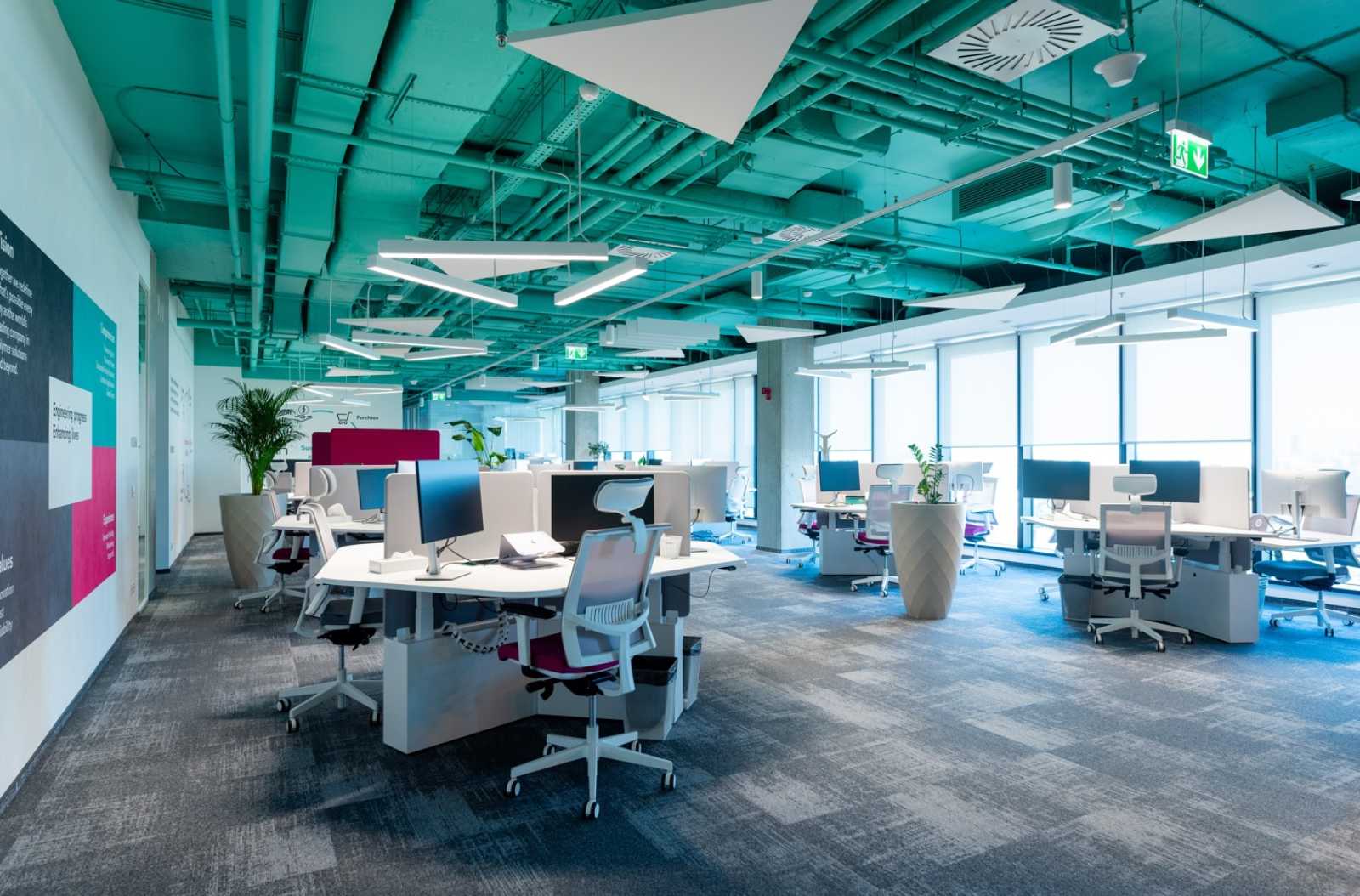 Thus, the entrance is a showroom area, where solutions from the divisions Building Solutions, Interior Solutions and Window Solutions are displayed. The main conference room incorporates HST Geneo and Slinova doors from the REHAU Window Solutions portfolio. Building Solutions systems such as RAUTITAN - piping and fittings for drinking water, RAUTHERM - surface heating and cooling, RAUSILENTO - innovative acoustic drainage of domestic water, as well as the RE.SOURCE smart battery together with a workbench, are all made available to partners and installers for testing. Two of the conference rooms integrated the Building Solutions ceiling cooling and heating system, together with the REHAU dehumidifier.
All RAUVISIO Brilliant, Crystal and Noir surface ranges are also on display, both as samples and in practical use as fronts, backsplashes or worktops. Visitors can also see the RAUVOLET system with roller door for narrow spaces, while the kitchen, lounge area and workspaces feature the latest RAUVISIO surfaces.
"In REHAU we found a partner open to innovation, who gave us the freedom to express our creativeness, to design not just an office, but to create a lifestyle for those who work there. Throughout the entire project, the focus was on people and employees, and for us REHAU has become more than a customer, it is now a partner and solution provider for Arkia. During the collaboration we discovered innovative systems and materials and a belief in sustainability that we, the team at Arkia Creative Home, can relate to. We are confident that together we have succeeded in creating a reference project for both the Romanian and international office market",

said Raluca Tautu, Architect & Partner Arkia Creative Home.
Because sustainability is part of REHAU's DNA worldwide, locations in Romania meet the same energy efficiency and environmental protection standards as those abroad.
Thus, REHAU offices focus on selective waste collection, along with smart lighting that allows brightness control based on motion detection and outdoor light levels, with presets set by zone or manual setting, all for the most sustainable use of artificial light.
At the same time, furniture elements have been purchased from reputable suppliers in the field, who apply sustainability concepts similar to those promoted by REHAU, using recycled and recyclable materials with a long lifespan.
Last but not least, the location was chosen in line with REHAU's sustainability principles. One Cotroceni Park is LEED Platinum v4 certified, which certifies sustainable operation and minimal environmental impact, and WELL Health & Safety certified, which assesses health and well-being in the workplace. Employees also benefit from an increased level of comfort thanks to generous spaces with plenty of natural light, as well as the latest technologies implemented through LED, HVAC and energy recovery lifts. Developed by One United Properties (BVB: ONE), the leading real estate investor and developer of state-of-the-art sustainable residential, office and mixed-use projects, the One Cotroceni Park complex is already a landmark on the real estate market, succeeding in creating a new business hub on the map of Bucharest.
---
Blog
News and Press Releases