The latest issue of Biz magazine tells the story of One United Properties and how the co-founders, Victor Căpitanu and Andrei Diaconescu, together with their team, managed to build one of the most visible and successful Romanian brands.
To take the pulse of One, Biz team relocated their office for a few days to One Tower, the office building within One Floreasca City development, where the developer has its headquarters.
Biz editorial team had the opportunity to test the facilities of the "building of the future" and observe how a day at work goes by for One United Properties team.
The members of the Board told Biz how the company stands out from its competitors and how it managed to write a successful story in Romania.
Starting on April 26, One United Properties has a new Board of Directors that includes five of the previous members, Claudio Cisullo, president, Victor Căpitanu, Andrei Diaconescu, Horia Manda, Marius Diaconu and two new members, Augusta Dragic, co-founder of the group Superbet, and Magdalena Souckova (Soucek), Country Managing Partner for EY in the Czech Republic between 2008 and 2021, all on the cover of Biz magazine.
"We have always been different than the mainstream, which I believe is one of the foundations of our longterm success. First of all, we have developed green buildings long before the value of sustainable constructing has become recognized globally. Although it would have been much easier, faster and cheaper to build with ordinary materials, we chose a different strategy based on longevity of the construction, as well as the lowest possible environmental and cost impact on the society.",

states Claudio Cisullo, Chairman of the Board of Directors of One United Properties
In addition, Augusta Dragic, non-executive – independent member of One United Properties Board of Directors, places the company's success on a responsible work ethic, an eye for opportunities, courage, and the values and vision that underlie One United Properties.
In 2007, Andrei Diaconescu and Victor Căpitanu founded One United Properties, a company that would become the largest real estate developer listed on the Bucharest Stock Exchange. With a unique market vision, an approach focused on customer requirements and needs, a sustainable policy and multiple facilities specially designed to offer more space, innovation, and fabulous panoramic views, One United Properties comes with a different, sustainable perspective and buildings designed to last.

Together, they lay the foundations and set the course of a successful, sustainable business, which differentiates from competitors not only through actions that target the impact and development of the community but also through the desire to leave behind innovative ensembles which respond to customer requirements and add value to the areas.
"From our perspective, when we choose a location, no matter where it is, it has to be the best in that area,"

Beatrice Dumitrașcu, CEO of the Residential Division, told Biz journalists.
In his turn, Mihai Păduroiu, CEO of Office Division One United Properties, spoke about the offices of the future, trends, and the facilities that have become a must-have in 2022.
"Now, the sanitary facilities and the quality and wellness criteria play an important role. In the long run, this will be a win for the teams, as offices tend to incorporate relaxing spaces, comfort, privacy, doubled by access to facilities and services."
The real estate developer also focuses on sustainable construction, laying the foundation for a safe and healthy environment that reflects the core principles of One United Properties. Zuzanna Kurek, Investor Relations Manager and ESG member of One United Properties, told Biz:
"We invest in innovative energy solutions, such as geothermal pumps, to build energy-independent buildings or elevators with energy recovery in office buildings. Our tenants can find these facilities in One Cotroceni Park Office. Last but not least, we build modern and affordable developments. Where the infrastructure is lacking, we develop it ourselves - as with One Floreasca City, where we invested 2 million euros in restoring the crossroad to fluidize, decongest traffic, and modernize the public space."
The architect of the urban regeneration is Marius Călin, Principal X Architecture & Engineering, the architecture office that gives life to most of One United Properties projects:
"By developing these buildings, we express our pleasure and trust in the city. The city is not just a transaction, is not just a snapshot. It is not just an agglomeration of buildings or the maximization of a territory. Regardless of the developer, all projects have predetermined locations and well-defined surfaces. And this is fascinating thinking, implemented for One Mircea Eliade (where we are now), One Cotroceni Park (in the two phases of development), One Lake District, or One Herăstrău Towers – an emblematic building, an example of urban regeneration. You thus have a building that you can interpret as having a symbolic function, and I still believe we need such buildings. We need an identity",

he says.
To succeed in a business, you need involved people with an innovative spirit who are willing to surpass themselves and evolve. Alexandra Dinu, Investment Manager, is certainly one of them, being one of the company's oldest employees, with 17 years of experience at One United Properties. Her two mentors, Victor Căpitanu and Andrei Diaconescu, with whom she has worked since the beginning, taught her many important business lessons, guiding and transforming her into the real professional she is today.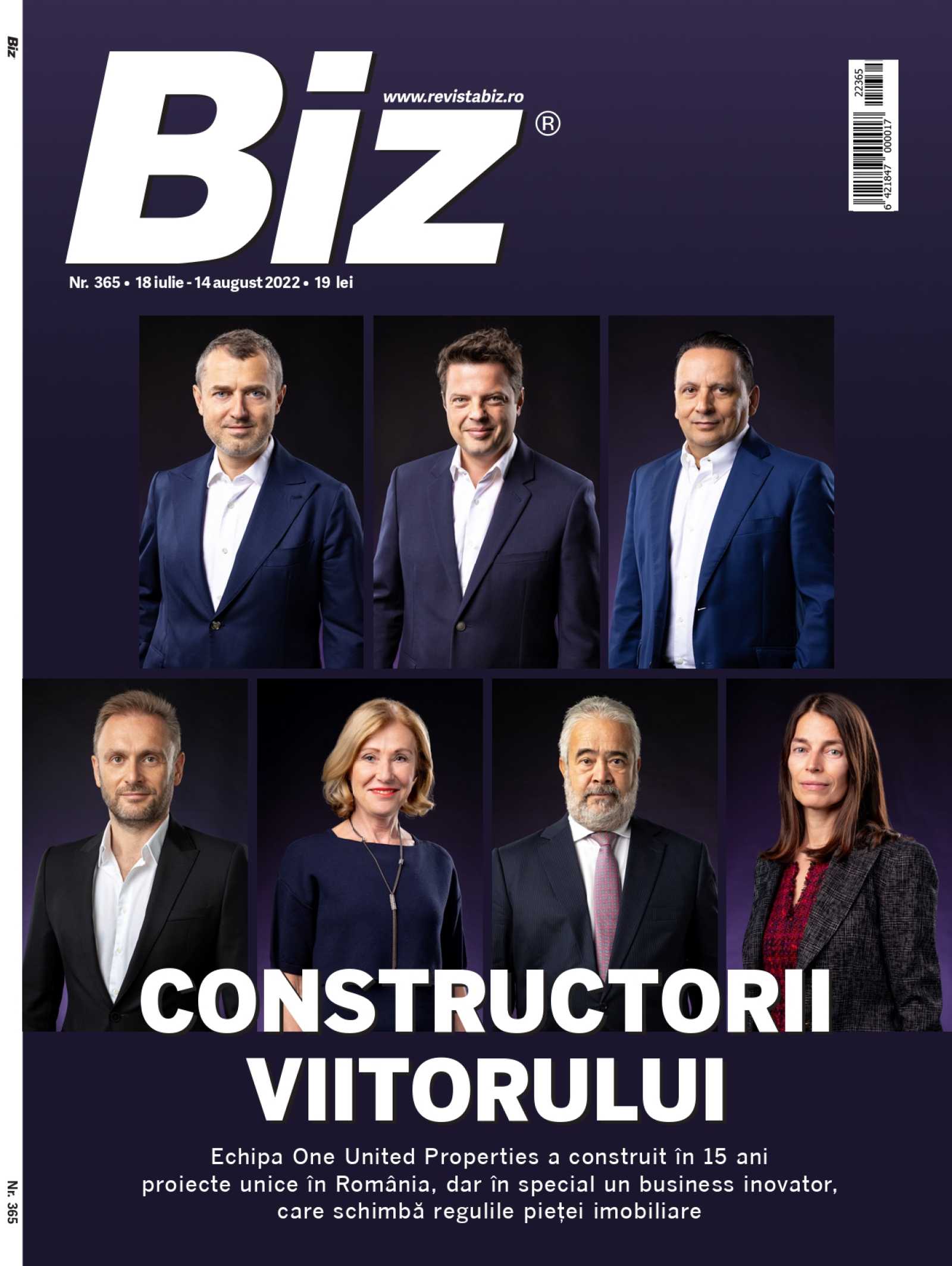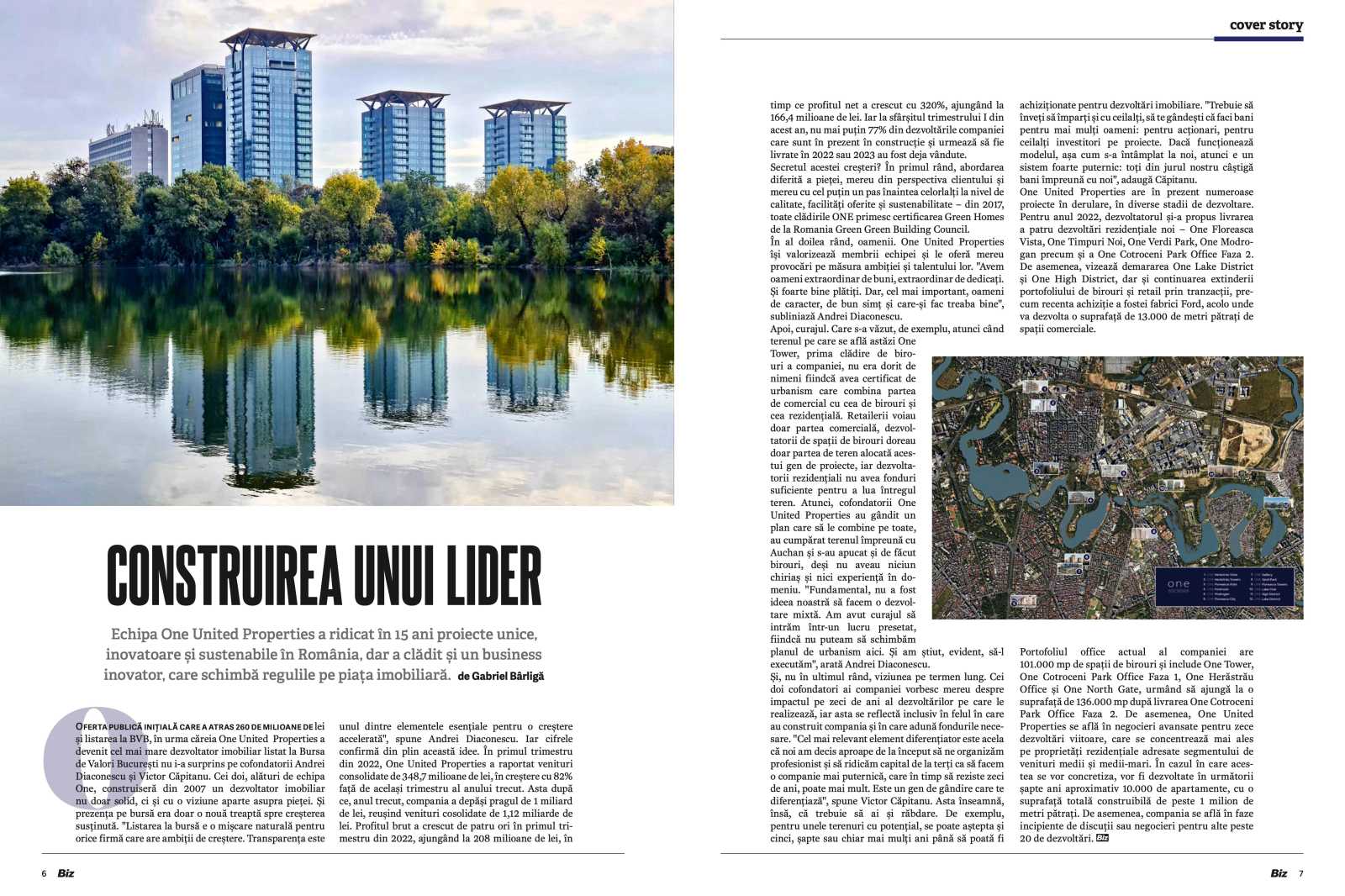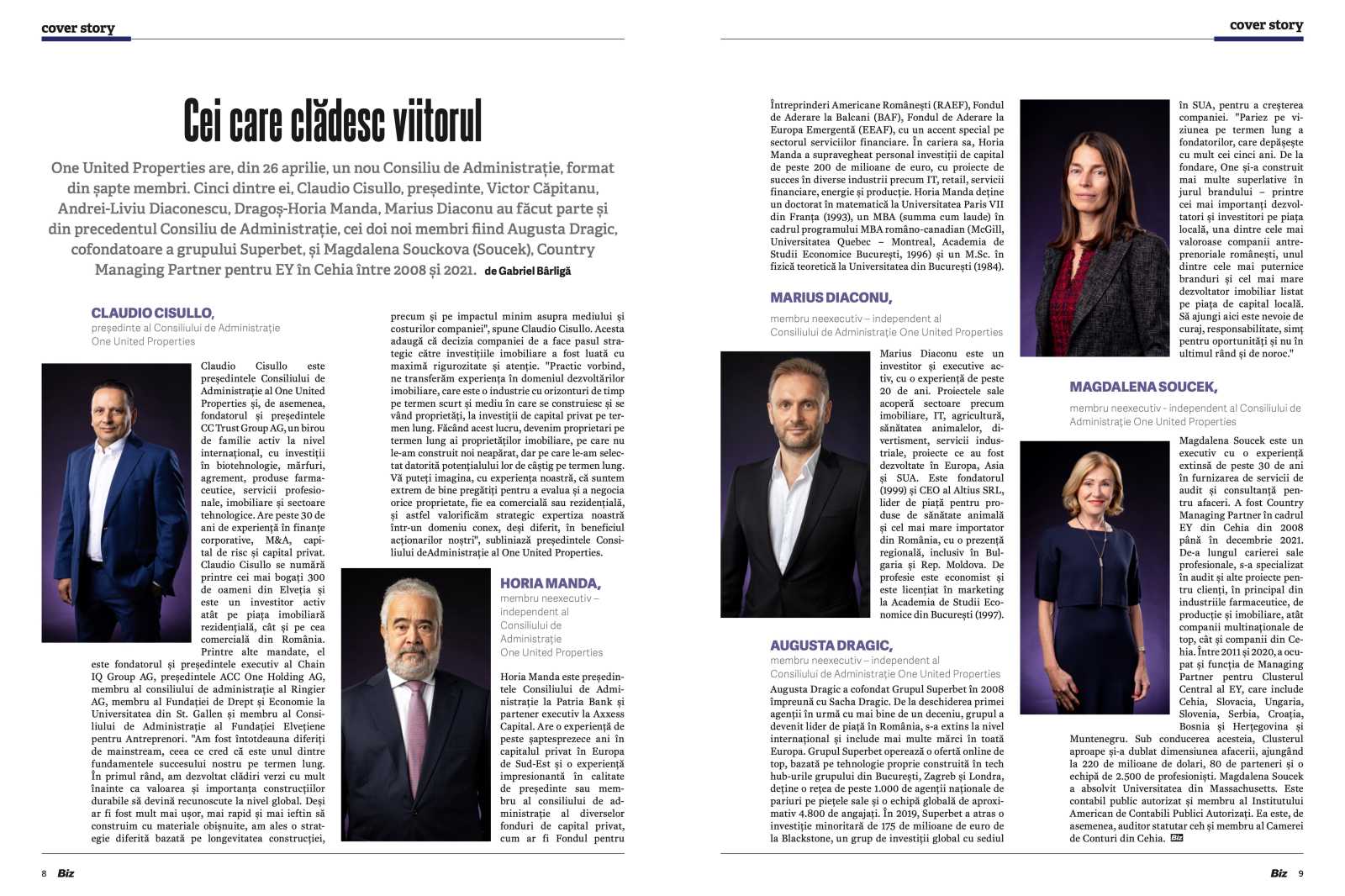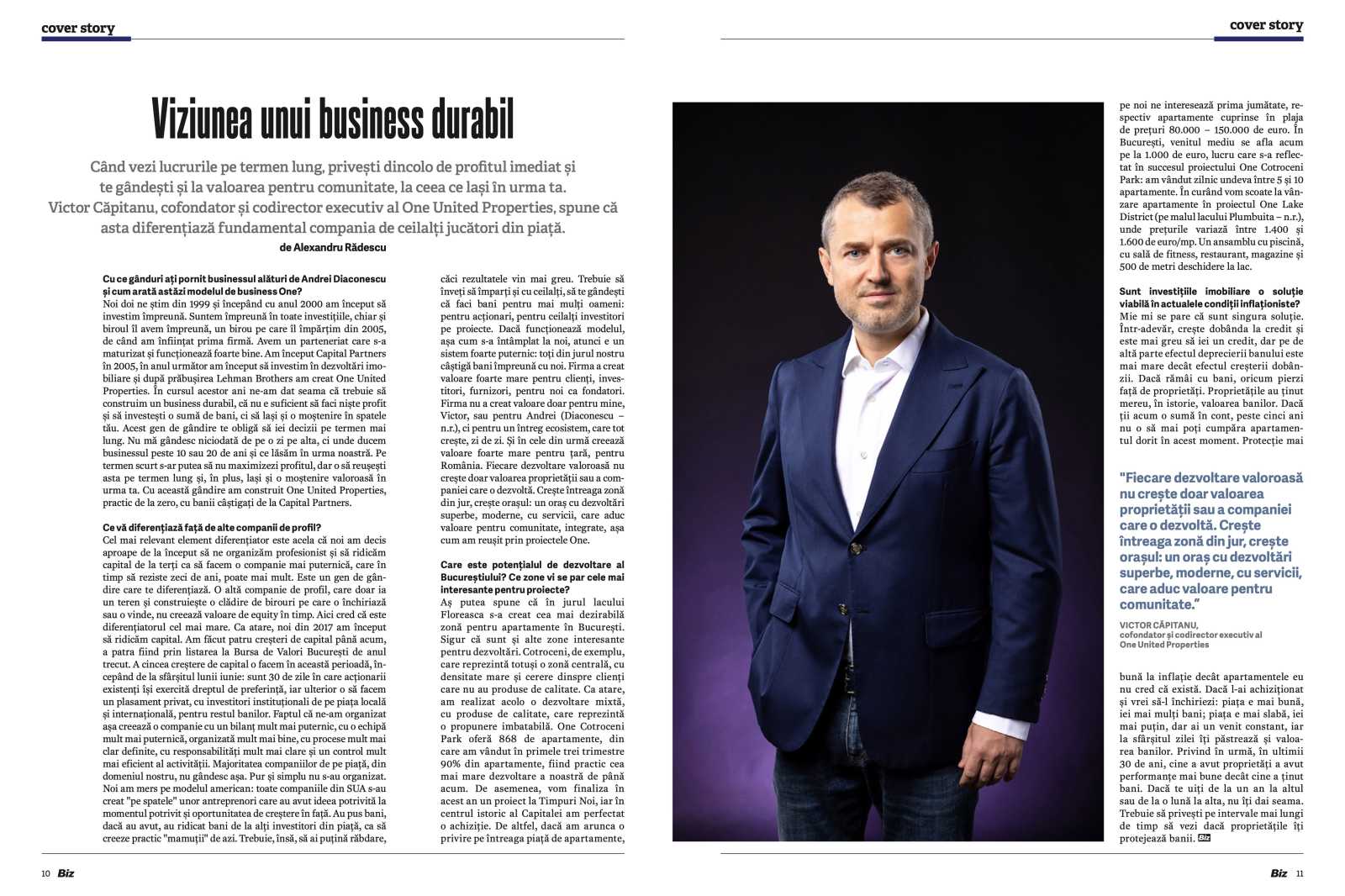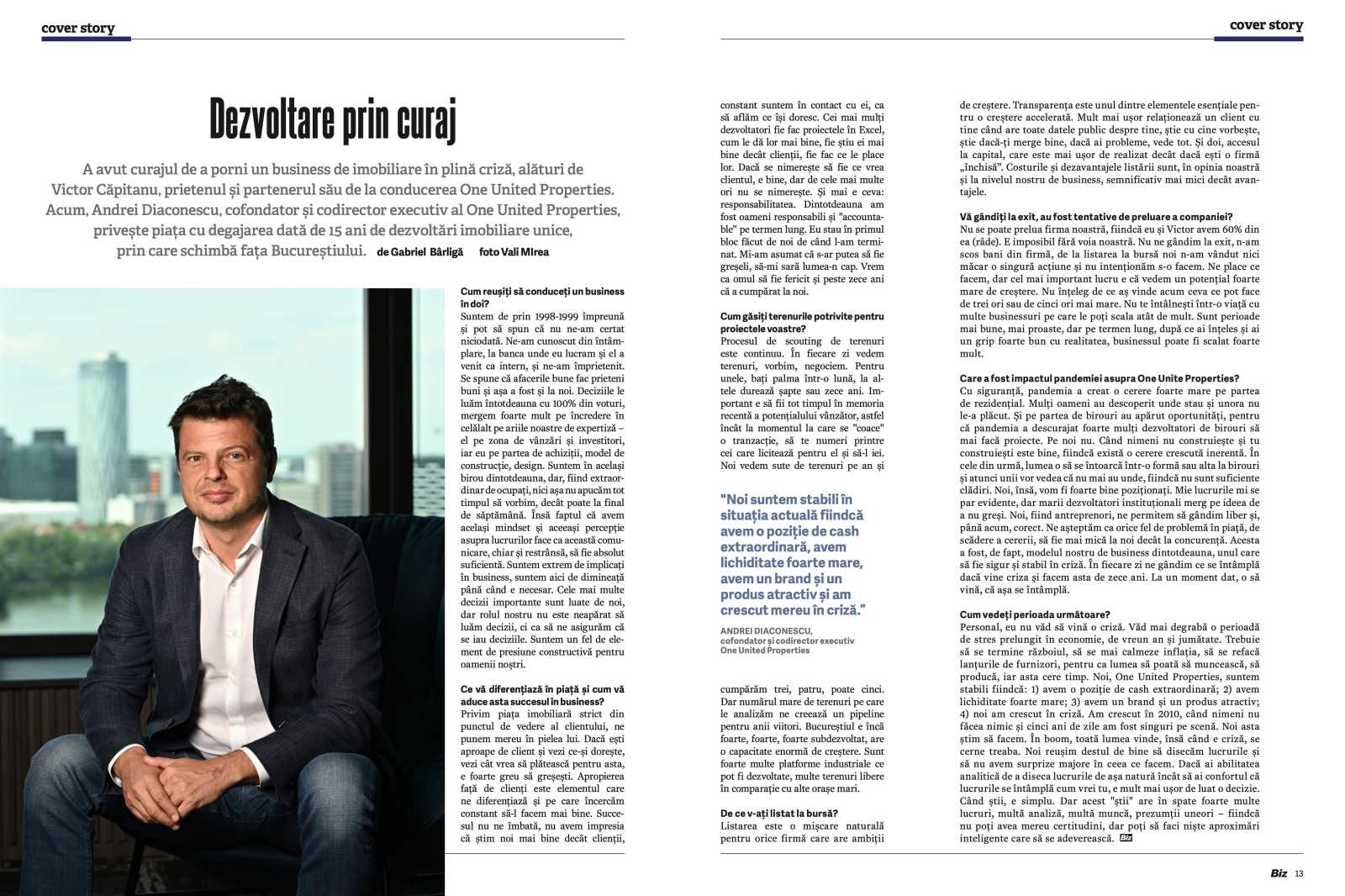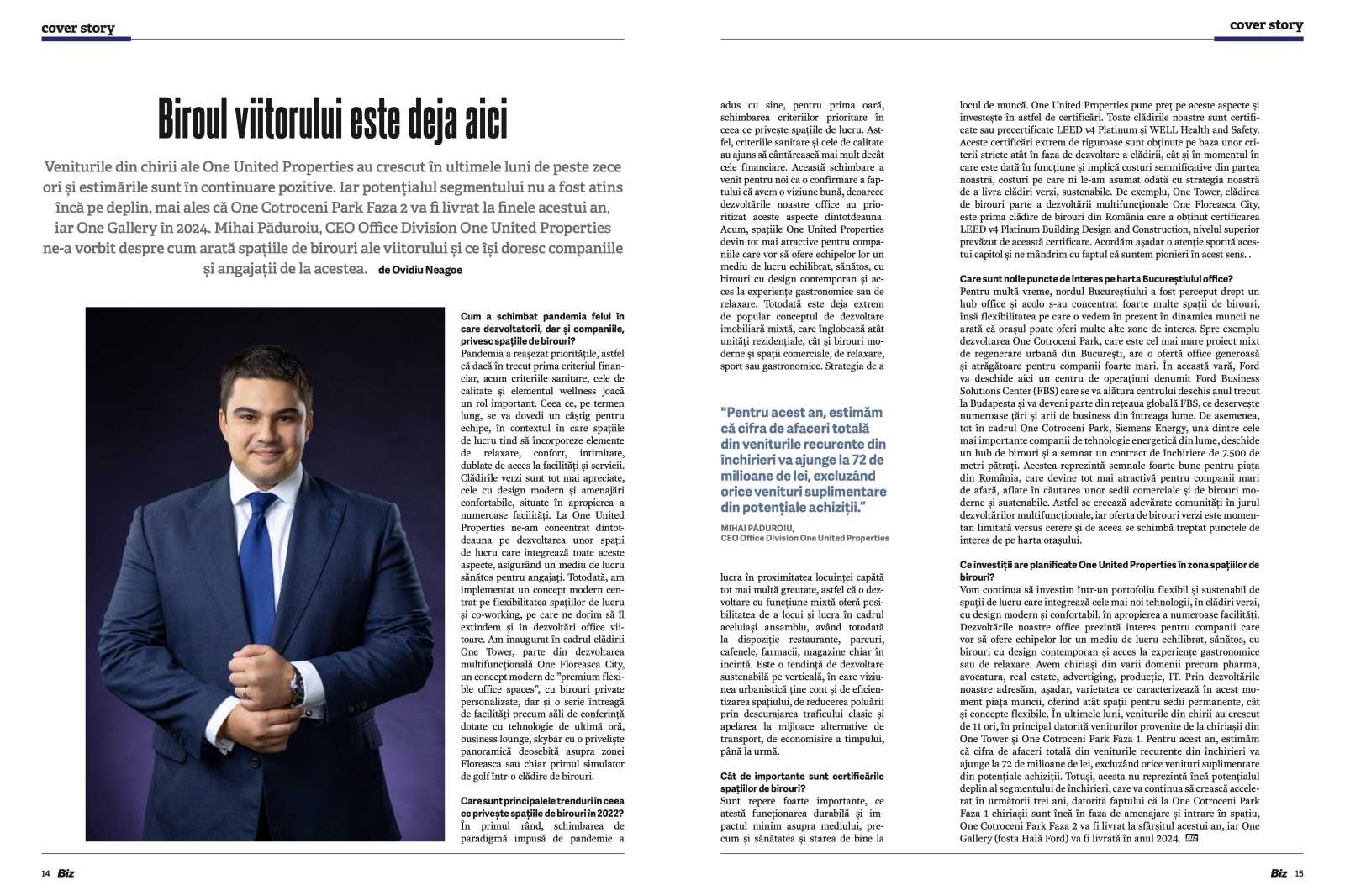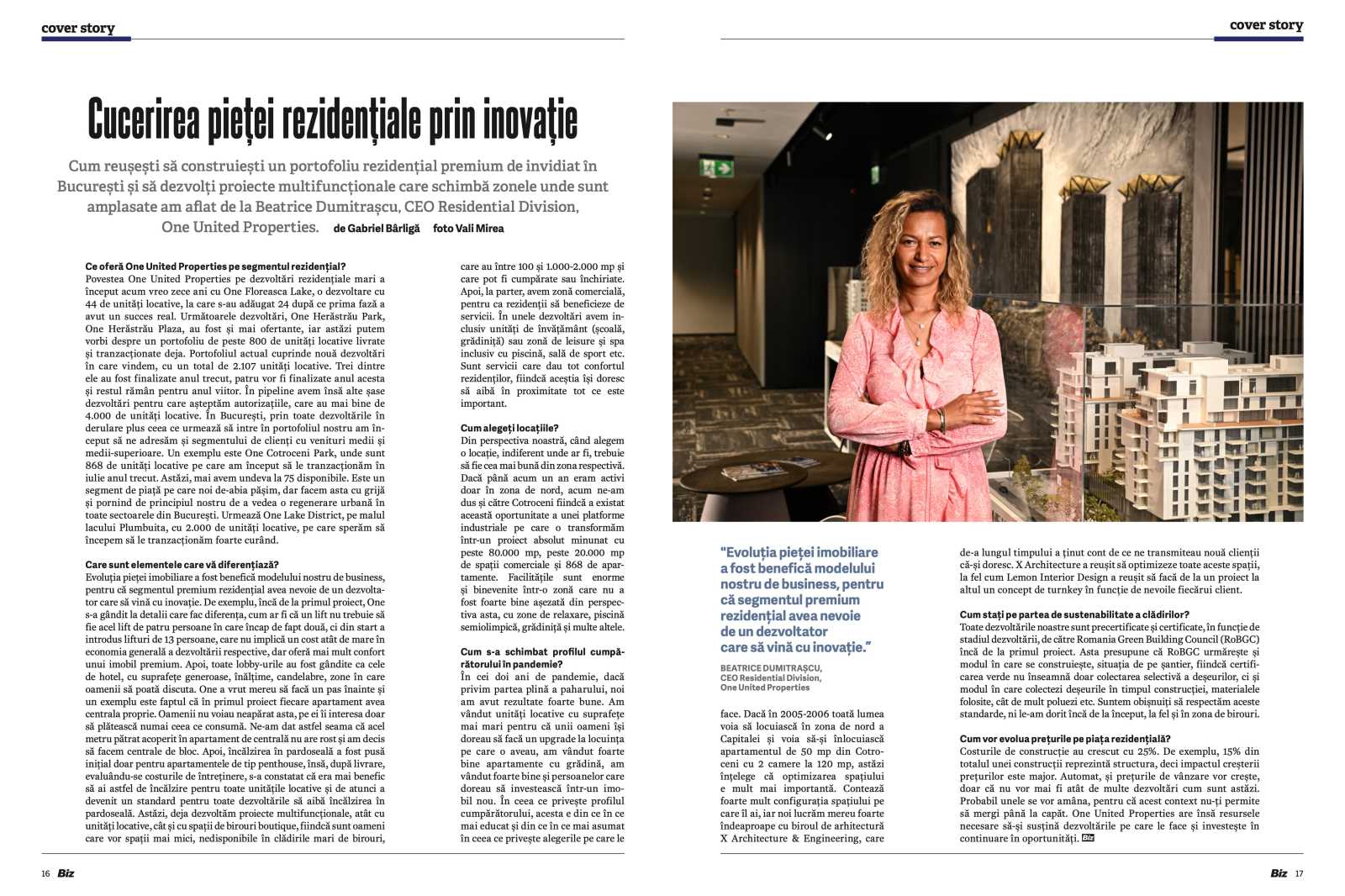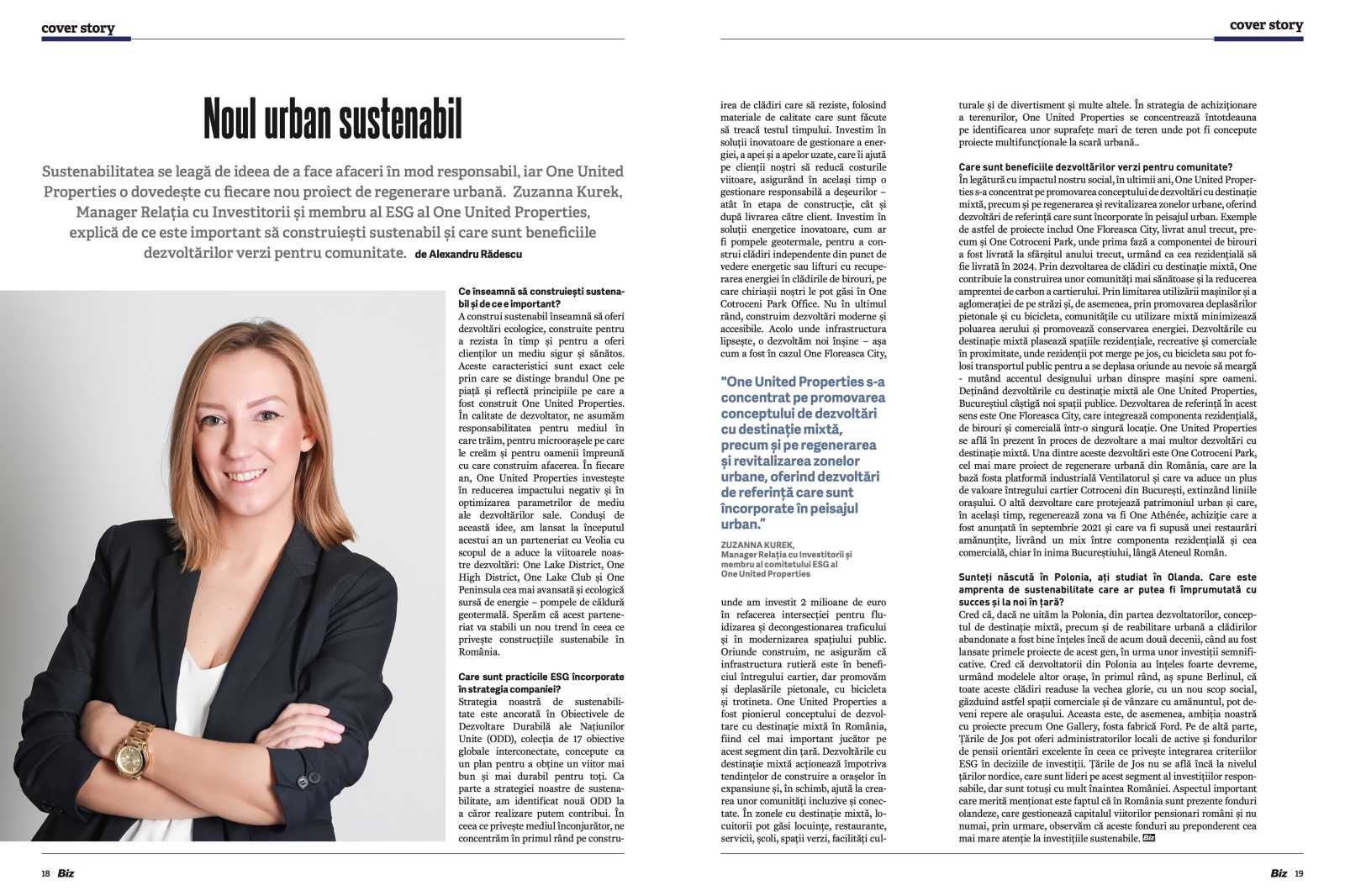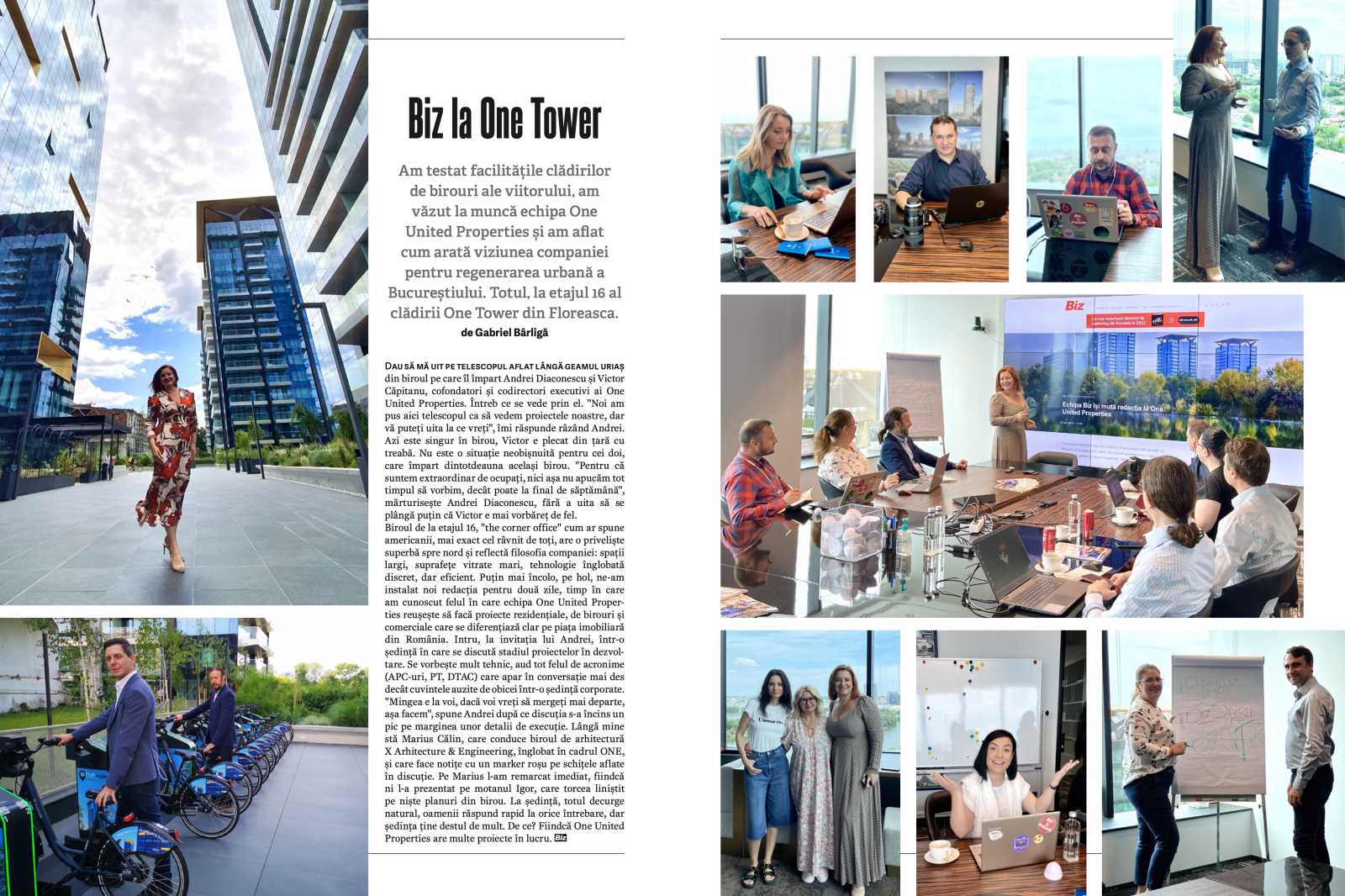 The full interviews can be read in the latest issue of Biz magazine.
---
Blog
News and Press Releases