Ziarul Financiar published an analysis of the developments that One United Properties will deliver this year and in the next two years, as well as the portfolio of developments to be authorized.
In 2023, One United Properties will deliver approximately 1,451 apartments and villas, and for another 2,100 apartments authorization has been issued and work can begin. In addition to these, another 1,300 apartments are being added in the recently announced upcoming One Cotroceni Towers development. With an estimated gross development value (GDV) of 400 million euros, One Cotroceni Towers will be an important mixed-use development and an emblematic example of urban regeneration, which will increase the attractiveness of living, working, and spending free time in Bucharest. The residential component will include 1,296 units arranged in five towers. Two towers will have 33 floors, thus becoming the highest residential development in Bucharest and in the region. Two other towers will have 23 floors, while one building will have 16 floors. The residential towers will be connected on the ground and first floors and will include commercial spaces for a variety of services, such as a gym with a swimming pool, food markets, restaurants, afterschool for children, and other specific services that will reduce the travel time of the residents and small office spaces on the first floor, available for sale.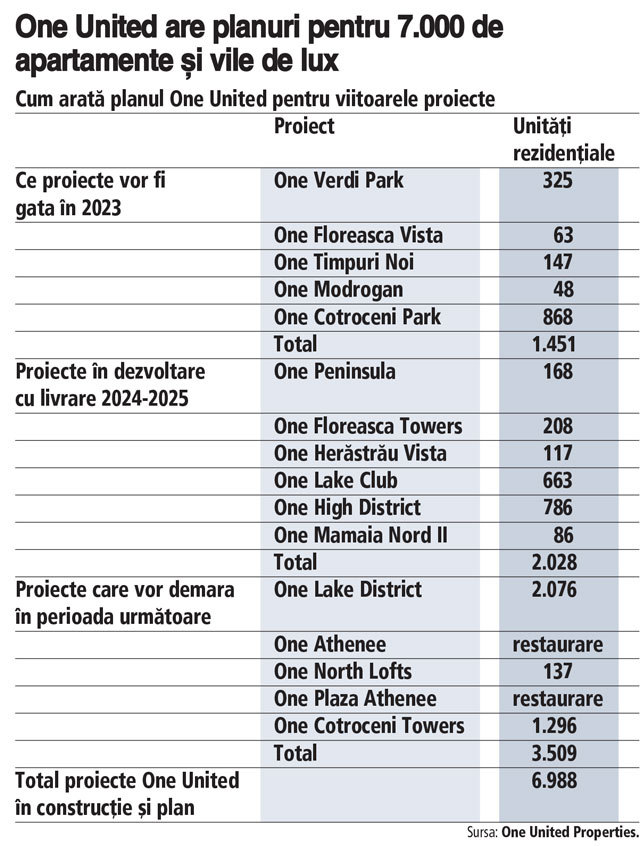 Regarding geoexchange systems, which are among the most energy-efficient, environmentally clean, and space-efficient systems available, One United Properties plans to implement it in One Lake District, One High District, One Lake Club, and One Peninsula developments. The main requirement is that the land is large enough to allow multiple places where pumps can be deployed.
Complete analysis here.
---
Blog
News and Press Releases